Description
Course Trailer
Import and organize your media, review and edit. Learn to leverage the Cut page for fast assembly and quick turnaround projects. Perform a methodical edit on the Edit page and start with sound editing directly from the Edit.
Explore the specialized workspaces: Learn to do primary and secondary color grades and create creative looks. Perform advanced audio editing & mixing and get started with VFX in Fusion.
Learn the technical foundations. Proper project setup, media- and database management.
Optional Speed Editor Lessons
Master the Speed Editor!
All lessons for the Cut page are also available in a special Speed Editor version. If you own a DaVinci Resolve Speed Editor or Editor Keyboard, you can watch me demonstrate all steps through the Speed Editor.
In an additional bonus lesson, I give additional tips and tricks for the Speed Editor and show to what extent it can help in the other pages of DaVinci Resolve.
This Course Offers
DaVinci Resolve 17

All recordings are presented in DaVinci Resolve 17 Studio. All exercises can be followed along in the free version (some Resolve FX effects appear with a watermark).
Learn more about prerequisites and the difference between free and studio versions in this video.
Summary
Quick Start
Get up to speed quickly by editing a 1 minute video from scratch in the Edit page. Assemble your rough cut, refine the edit, add a title and deliver. Get started in Resolve with this overview in one lesson.
Cut Page
Use the Cut page to efficiently review large amounts of footage, for a quick assembly of a larger project, or to complete a whole job in a quick turnaround szenario.
Optionally, you can watch all lessons about the Cut page with separate recordings that demonstrate the DaVinci Resolve Speed Editor.
Edit Page
Get a thorough introduction to the DaVinci Resolve Edit page. Manage your media, set up bins and smart bins, and Perform a detailed edit with all main editing features of DaVinci Resolve. Also, get started with audio editing right from the Edit page. Use clip colors, flags, and markers to stay organized and prepare for grading sessions or detailed audio work in Fairlight.
Color
Get a good grasp of the world-class color grading features in DaVinci Resolve. Start with a primary grade to normalize/balance your shot and do the first overall adjustments and overall matching between shots. Learn about secondary grades for very detailed and selective color manipulations. Finally, you learn how to create creative looks and how to reuse and share them correctly through stills and LUTs.
Sound
Many audio tasks and effects can be applied directly from the edit page. However, the Fairlight page offers some excellent dedicated features that make working on audio more productive. Learn to use the interface effectively with many tracks, use spot lists, record voice over and more.
VFX
Get an Introduction to Fusion by working on a head-up display for a retro sci-fi shot. Learn how Fusion's node-based interface works and how it differs from the color page. Create a convincing composite with some added effects and an animated text graphic.
Delivery and Project Management
Learn about the different delivery options in DaVinci Resolve and get to know DaVinci Resolve's Database concept. This helps you to correctly share project assets, create back-ups and archives or migrate your installation to a different system.
Should I take this Course?
This course is ideal for you if you…
Prerequisites: None, other than general PC knowledge as well as time and dedication.
Learn more about prerequisites and hardware for DaVinci Resolve.
Blackmagic Design Certified Training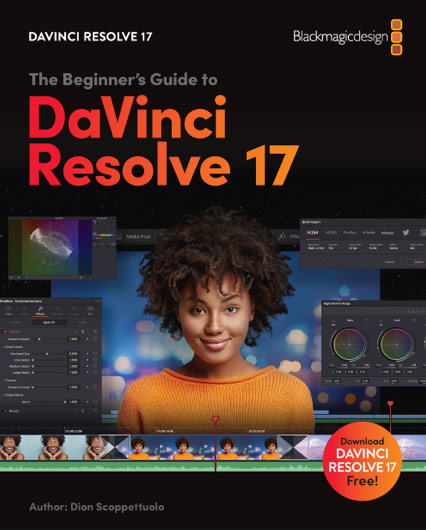 This course follows the official Blackmagic Design Certification Program for DaVinci Resolve supplemented with additional exercises and video explanations.
It is equivalent to a three-day classroom training as it is taught by certified trainers in training centers across the world.
Blackmagic Design offers the book The Beginner's Guide to DaVinci Resolve 17 as a free PDF on the DaVinci Resolve Training site where you also find a free online exam to test your knowledge after you complete this course.
VFXstudy is an official training partner of Blackmagic Design.

Further Questions
If you have any further questions, please contact me at [email protected].